Valentine's Day 2018
February 05 2018 – Zoe Schuler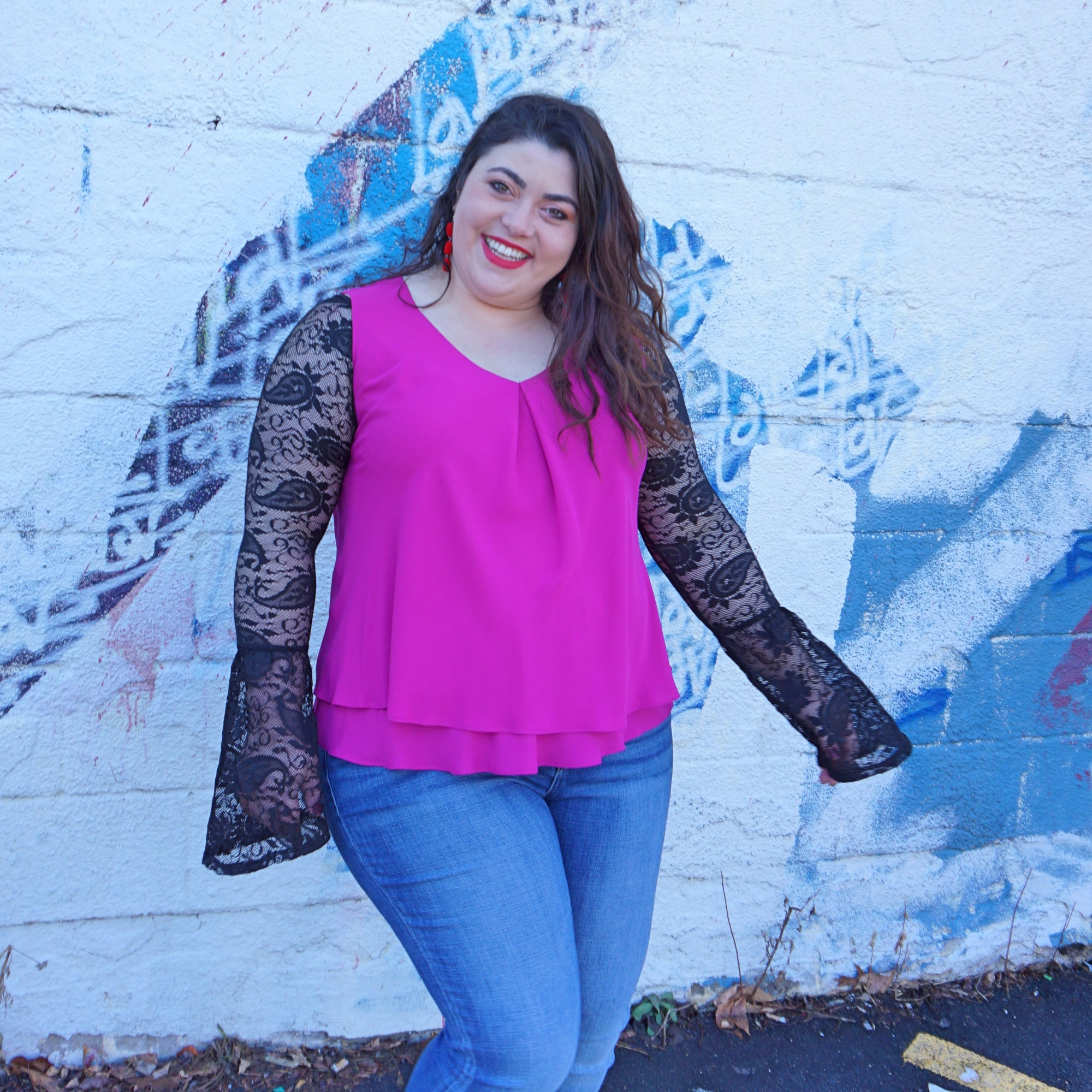 Are you looking for the perfect Valentine's Day outfit? No matter what you have planned, we have something fabulous for you. 
Recently we were lucky enough to spend the morning with Katrina Simyab, local blogger, stylist and plus size fashionista. We drove all around Madison with a car full of clothes hunting for the perfect photo shoot location. Even though it was sunny, we took these photos outside in Wisconsin in January! Katrina was such a great sport about posing in sleeveless tops and dresses. She didn't complain once and is a champ at quick outfit changes in a car!
Read on for a few of our favorite Valentine's Day Looks.
Date Night Look:
Frank Lyman Woven Dress. $229. Available in sizes 14-22.
We love this Frank Lyman dress because it's reversible. Wear it this way for pink with an the playful orange lining that peaks out of the bottom, or flip it inside out for a solid orange dress. 
This dress would be perfect with your favorite sweater or shrug for a romantic dinner with your beau this Valentine's Day. Plus, you can easily wear this dress all summer long by pairing it with sandals and a jean jacket.
Day Time Look:
Comfy USA Stella Tunic. $99. Available in sizes 1X-3X.

Lysse Taylor Seamed Leggings. $98. Available in sizes 1X-3X

Echo New York Two-Tone Hand Knit Hat $59
This outfit is simple, comfortable and bright! You can easily wear all the pieces together or separate. Pair this Sun Kim by Comfy USA tunic with your favorite black leggings (we recommend Lysse) and have fun accessorizing. Katrina added a two-tone hand knit hat from Echo New York. It would look just as great with a printed scarf or bold necklace. 
Wear this outfit to work, running errands or hanging with your friends. 
The Day to Night Look:
If you have a busy day planned on February 14th, you need an outfit that can easily be changed from day to night. 
Frank Lyman Woven Top. $129. Available in sizes 14-22. Also available in black.
This woven tank from Frank Lyman looks just as great with jeans as it does black pants. Wear it during the day under a blazer or sweater.
French Paisley Sleevey Wonders. $57. Available in sizes 1X-2X.
Transition your look from day to night by adding Sleevey Wonders! These fun sleeves come in a variety of styles and add interest, style and arm coverage to any sleeveless outfit! You can wear them on or off the shoulder and forwards or backwards depending on the neckline of your shirt.
We think the Lace Bell Sleeve Sleevey's are the perfect choice for Valentine's Day! They're romantic and playful.
Stop by z.bella boutique to shop for these styles and more. 
Don't have any Valentine's Day plans?
Celebrate GALentine's Day at the boutique!
We've partnered with our favorite local businesses to bring you food, drinks, crafts, shopping and a body positive discussion! 
Click HERE for more details and to reserve your free ticket today!