Spring 2020 Z.Sale Details!
March 02 2020 – Zoe Schuler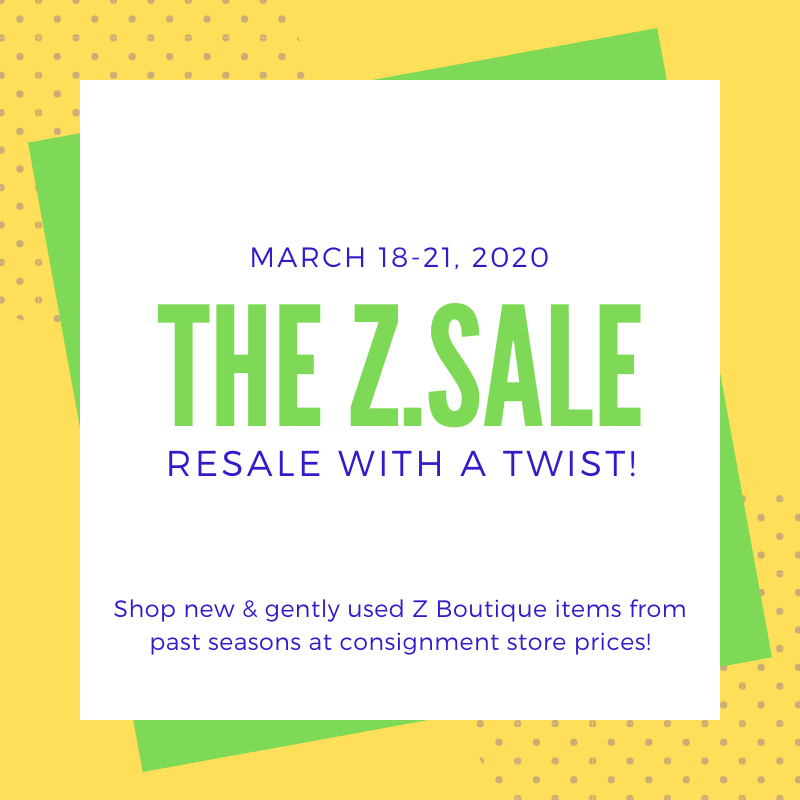 Now is the time to get a jump-start on updating your spring & summer wardrobe. Clean out your closet and bring your gently (or never) worn clothing from Z Boutique back to the store!
We're gearing up for The Z Sale, March 18-21, 2020.

 
Do you have items that you purchased from Z Boutique that you haven't worn as much as you thought or never worn at all? Bring them back to the boutique during any of the set times listed below and we will sell them for you during the Z Sale. You'll get store credit for your items that sell.
How does it work?
We're accepting gently used or new items purchased from Z Boutique (clothing, handbags and more). If you have items from other places that are similar in quality and style as those you find at Z Boutique, then you may bring those in as well.
Sign up for a time to drop off your clothing by clicking this link.
When you come to drop off, we will go through your clothing and take items we believe will sell.
We will determine the price for all items.
You will receive 60% of your sales in store credit that can be used anytime at Z Boutique.
After the sale you can pick up unsold items OR donate them to Middleton Outreach Ministry.
Okay, I'm in! What else do I need to know?
Make sure your items are clean, free of stains, smells, damage or noticeable wear & tear.
When you drop off items, we will sort through them on the spot and determine which items would be best for the sale. We'll ask you to sign a contract agreeing to the terms of the sale. 
Following the sale, all unsold items must be picked up by Friday, March 27 or they will be donated to Middleton Outreach Ministry.
Drop off times:
Tuesday, March 10  10:00 AM - 6:00 PM
Wednesday, March  11 2:00 - 6:00 PM
Thursday, March 12  10:00 AM - 4:00 PM
Friday, March 13  10:00 AM - 4:00 PM
Saturday, March 14  10:00 AM - 3:00 PM
IMPORTANT: SIGN UP FOR YOUR DROP OFF TIME HERE 
I don't have items to bring in for the sale but I want to SHOP!
Yay! We can't wait to see what fabulous goodies show up for the Z Sale. EVERYONE is invited to shop starting at 10:00 AM on Wednesday, March 18th. The sale will go through Saturday, March 21, 2020.
The small print: All sales will be final during The Z Sale. No discounts, rewards or gift certificates may be used on Z Sale merchandise. 
 Let us know if you have any questions about the Z Sale! 608.819.8799 and ask for Zoe or email shop@z.boutique