Fall 2021 Z.Sale Details
September 09 2021 – Zoe Schuler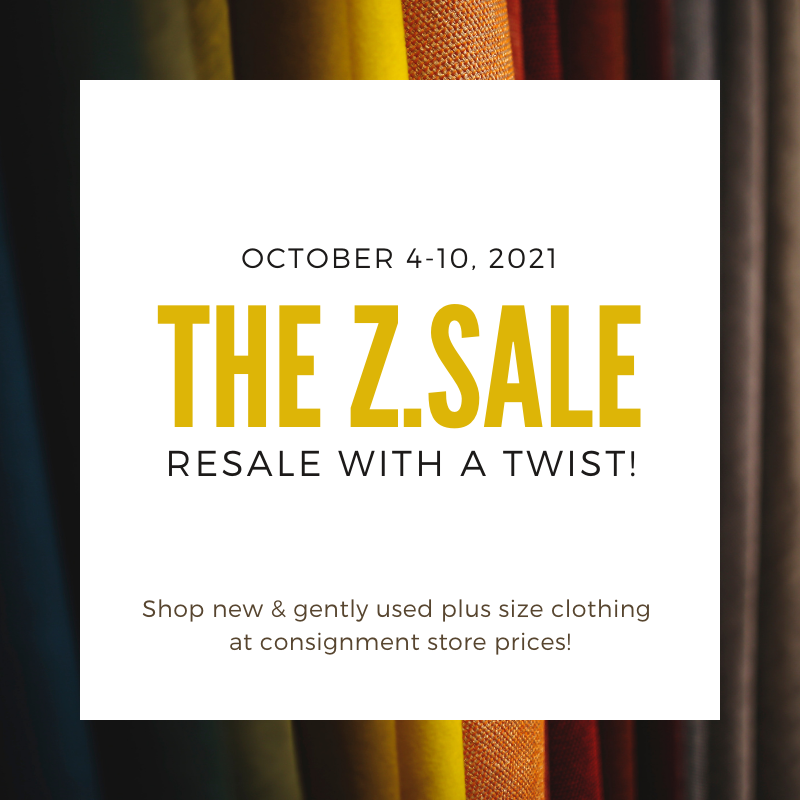 The Z Sale is a twice yearly resale event at Z Boutique. For 1 week, you'll be able to shop gently-used, boutique-quality, plus-size clothing for a fraction of the original retail price. Whether you plan to shop the sale or consign your clothing for the sale, all the details are below:
We're gearing up for The Z Sale, October 4-10, 2021
Do you have items that you purchased from Z Boutique that you haven't worn as much as you thought or never worn at all? Bring them back to the boutique during any of the set times listed here and we will sell them for you during the Z Sale. You'll get store credit for your items that sell.
How does it work?
We're accepting gently used or new clothing purchased from Z Boutique. If you have items from other places that are similar in quality and style as those you find at Z Boutique, then you may bring those in as well.
We're only looking for fall & winter styles. Save your spring/summer styles for the next sale please!
Sign up to be a consigner and to schedule a time to to drop off your clothing by clicking this link.
When you come to drop off, we will go through your clothing and accept items we believe will sell.
We will determine the price for all items.
50% of your sales for non Z-Boutique clothing items and 60% of your sales of items that were originally from Z Boutique will be issued to you in store credit that can be used anytime at Z Boutique.
After the sale you can pick up unsold items OR we can donate them to local charity on your behalf.
Okay, I'm in! What else do I need to know?
Sort through your clothing & bring only the best of the best. We're looking for styles that are not more than 2 years old.
Make sure your items are recently washed (within the last week). They should be clean, free of stains, smells, pet hair, damage or noticeable wear & tear.
All items should be on a hanger (this makes it easier for us to quickly sort through your items. We'll return all your hangers and items not selected for the sale to you at the end of your drop-off appointment).
When you drop off items, we will sort through them on the spot and determine which items would be best for the sale.
We'll ask you to sign a contract agreeing to the terms of the sale. 
Following the sale, you will receive an email with the amount of store credit you earned and more information about when to pick up your unsold items.
I don't have items to bring in for the sale but I want to SHOP!
Yay! We can't wait to see what fabulous goodies show up for the Z Sale. 
Due to COVID-19 we're planning to run the Z Sale a little differently.
All items will have been sanitized and stored off the sales floor for several days before launching the sale. 
SALE SCHEDULE:
We will be offering a

 

VIRTUAL PREVIEW

 

on the Z Insiders Facebook Group on Sunday, 10/3/21. If you're not already a member of the Z Insiders Facebook Group,

 

click this link to join today!
Daily Live Sales will happen throughout the week. Check the

 

Z Insiders Facebook Page

 

for more information closer to the Z Sale.
On Monday, October 4, we will offer PRIVATE SHOPPING APPOINTMENTS only. Each appointment will be 1 hour in length and there will be at most 2 other people shopping. We'll stagger the arrival times and space out the racks as well. To schedule a private shopping click here.
DROP IN SHOPPING

 

will be Tuesday, October 5 - Saturday, October 9.

 

Check store hours here. During these dates, you may come anytime to shop the Z Sale. No appointment necessary.
THE FIRE SALE will be on Sunday, October 10 from 12-3 PM. Remaining items will be 50% off. 
The small print: All sales will be final during The Z Sale. No discounts, rewards or gift certificates may be used on Z Sale merchandise. 
Let us know if you have any questions about the Z Sale!
608.819.8799 and ask for Zoe or email shop@z.boutique